Have a large area or house to heat or just love to have heaps of heat when you want it? Say hello to the MacLeod Maxi pellet heater. The maxi is the big brother of the MacLeod range of pellet heaters, packing more heat and just more of everything than the MacLeod Matilda, Mini and Midi models. The Maxi can crank out up to 12kw of heat and comes in one flavour only, freestanding. Below I take a look in detail at the Maxi to see if it can deliver and how good it is at heating large areas and how it stands up against the godfather of the MacLeod family, the Sapphire.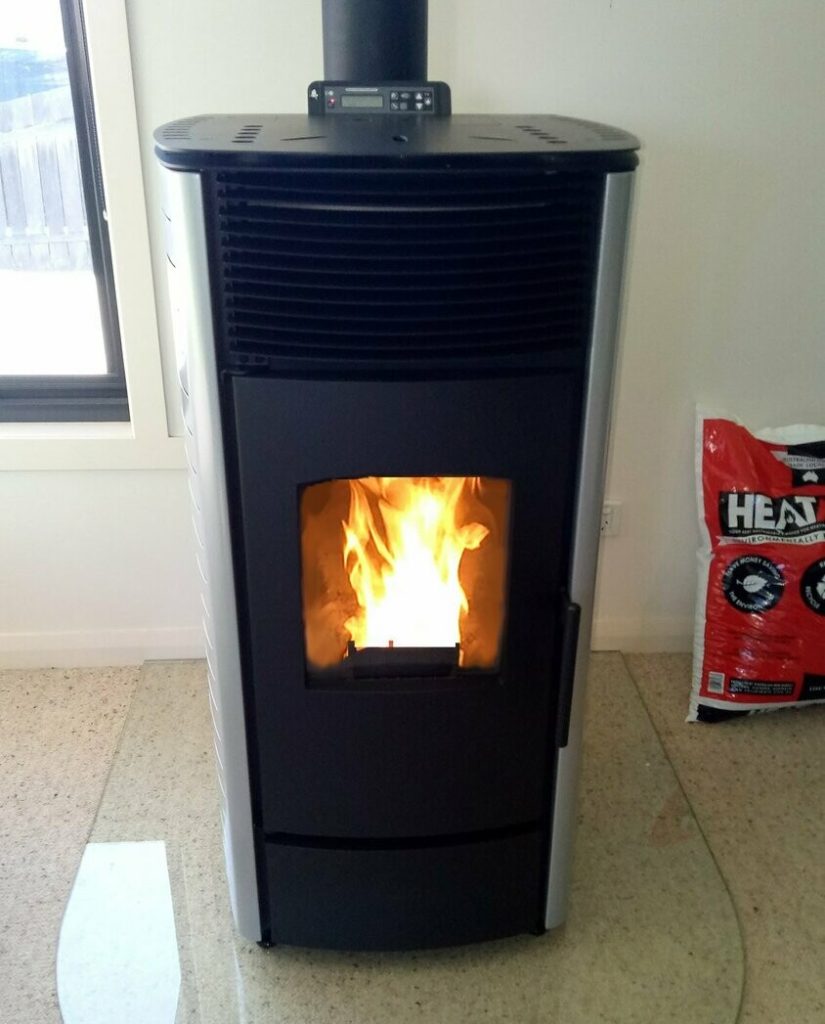 Below is a quick breakdown of the Maxi pellet heater and its specifications. You can see that it's definitely the big brother of the MacLeod family as it's bigger and better in terms of size, maximum heat output and hopper capacity than all other heaters except the Sapphire. Definitely take a look at the Maxi if you have a large area to heat, like a big hopper and just want "big".
| Heater Range | MacLeod Matilda | MacLeod Mini | MacLeod Midi | MacLeod Maxi | MacLeod Sapphire |
| --- | --- | --- | --- | --- | --- |
| Heat Output (High) kw | 6 | 6 | 9 | 12 | 13 |
| Heat Output (Low) kw | 2.7 | 2.7 | 2.7 | 2.7 | 2.7 |
| Heat Area M2 | 80 | 80 | 120 | 160 | 170 |
| Efficiency % | >=90 | >=90 | >=90 | >=90 | >=90 |
| Hopper capacity Kg | 8 | 8 | 12 | 20 | 20 |
| Low Burn rate (Avg) kg/Hr | 0.6 | 0.6 | 0.6 | 0.6 | 0.6 |
| High Burn rate (Avg) kg/Hr | 1.2 | 1.2 | 1.6 | 2.1 | 2.2 |
| Electricity consumptioon Watts | 30 to 50 | 30 to 50 | 30 to 50 | 30 to 50 | 30 to 50 |
| Ignition Watts | 250 to 400 | 250 to 400 | 250 to 400 | 250 to 400 | 250 to 400 |
| Dimension (WxHxD) mm | 449x918x486 | 463x740x510 | 463x950x510 | 540x1020x550 | 630×1009 |
| Weight kg | 70 | 70 | 80 | 100 | 130 |
Maxi Pellet Heater and the MacLeod Family
The MacLeod family has a total of five models in it. The Matilda and Mini are aimed at people with very small areas to heat or just don't need to use a pellet heater very much. The Midi, Maxi and Sapphire up the game with some serious heat, going from 9kw all the way up to 13kw. For me, the midi is for people who just want to heat one area or room, such as a large living room. It pumps out 9kw of heat which is more than enough but you can see it only has a 12kg hopper. Again, the Midi is nothing to scoff at, it's got plenty of heat and a great heater, but it's more for people looking to heat a large room and not too worried about the rest of thouse.
However, the Maxi and Sapphire, at least in my eyes, are for people who have a very large area to heat, such as multiple rooms and are possibly looking at heating other rooms in the house. The Sapphire beats out the Maxi in heat output by only 1kw, which, let's be honest, is going to be pretty hard to tell the difference between. So what's the difference between the two? The main difference between the two is style. The Sapphire has more of a European flavour, like the Piazzetta pellet heater or Palazzetti. Other than that, both the Maxi and Sapphire in my eyes offer the same heating capability.
Maxi Heat Output
The Maxi offers anywhere from 2.7kw to 12kw of heat output. As I've said on many other posts on this site, pellet heaters for the most part will NOT be running on maximum heat all the time. Australia, even the cold parts, aren't that cold when compared to some places overseas. So, most of the time the Maxi will be running on low mode. However, 12kw of heat is nice to have and I think it is always better to have more heat than you'll need because when you need heat fast your pellet heater will deliver.
The Maxi and it's 12kw of heat is definitely more heat than you could possibly need for just one room. This is why I said above I think the Maxi is aimed at people looking to heat a very large area, such as multiple rooms. Now, pellet heaters are space heaters so you will find that the room the pellet heater is in is warmer than other rooms, but the Maxi will definitely be able to crank out heat that will warm the rest of your house. The only way to get even heat throughout a house is to use central heating, which is expensive and for some people not worth the money. The Maxi offers enough heat to definitely warm up even a large house.
Maxi Heating Area
This ties in nicely with the heating area of the Maxi pellet heater. It's marketed with the ability heat heat 160m2 of space. How big is that exactly? That would be a room that is roughly 13 metres by 13 metres. My house is about 100m2, so you can see the Maxi with it's 12kw of heat is more than enough to heat my house. Now, remember the heating area is really only applicable to a single area or room. However, it's highly unlikely your lounge room is 160m2, if it is then well done and plesae tell me your secret to financial success 🙂 For the rest of us, you'll probably have a lounge around 70m2 to 100m2 at most and obviously want to heat the rest of your house.
If you want to maximise the Maxi's heating potential, then definitely read my post on how to distribute heat from a pellet heater if you haven't already. But, basically, I would install either a ceiling fan in the room the Maxi pellet heater is in or I would install ducting. This way you will help heat to move from the room the Maxi is in to the rest of your house. How well the Maxi is at heating your house depends on obviously how big it is but also how many rooms and hallways you have that restrict airflow. If you have an open plan house then heat from the Maxi will move throughout your house better. Either way, the Maxi is definitely a good way to keep your house warm during winter.
Maxi Efficiency
Pellet heaters are incredibly efficient compared to wood heaters. Fortunately, all MacLeod models, including the Maxi pellet heater, have a minimum 90% efficiency rating, meaning they can convert almost all of the "energy" contained within pellets into heat. Put another way, if you spent $100 on buying wood pellets then you would get about $90 worth of heat. This is why pellet heaters are extremely efficient as wood heaters are typically only around 60% efficient. Even if the Maxi pellet heater isn't right for you, you'll find that all pellet heaters, regardless of brand similar efficiency, approximately 90%.
Maxi Hopper Capacity
It's all about the hopper. I absolutely love large hoppers, no matter the brand or model of pellet heater. Who wants to be checking on the hopper all the time worrying that it is getting low on pellets? The Maxi pellet heater has a 20kg hopper, which is just under one and a half bags of pellets. The Maxi matches the Sapphire in hopper size and is much larger than the 8kg and 12kg offered by the smaller MacLeods. Only the Grace pellet heater, also sold by Pellet Fires Tasmania, offers a bigger hopper with a capacity of 22kg.
As I've already mentioned, big hoppers are great. If you are running the Maxi pellet heater on high a lot, it'll be burning through pellets much faster than the smaller MacLeods as more pellets equals more heat. However, the reality is the heater won't be running on high a lot, so a 20kg hopper will probably get up to 3 days of heat before you need to fill it up. A 15kg bag of pellets lasts anywhere from 8 to 23 hours, so you can see that running your pellet heater on low 20kg of pellets would last up to 3 days. The smaller MacLeods would get about one or two days at the most.
Maxi Burn Rate
When it comes to burn rate, all MacLeod models have a low burn rate of 0.6 kilograms per hour on average. The Midi model has a maximum burn rate on high of 1.6kg an hour, while the Maxi uses 2.1kg an hour for its 12kw and the Sapphire uses 2.2kg for its 13kw. As I mentioned above, more pellets are required to generate more heat and this is why the Maxi uses significantly more pellets on high heat than the smaller models. However, remember the heat will not be running on high heat all the time. At the very most the Maxi would be on high for one hour a day to bring the room up to heat and then the rest of the time it would be running on low, using the same amount of pellets as the smaller models.
Maxi Electricity Consumption
The electricity consumption and ignition wattage of all MacLeod models, including the Maxi pellet heater, are identical. They consume between 30 and 50 watts of electricity and have an ignition wattage of between 250 and 400 watts. This is true for most pellet heaters available today, not just MacLeod models. In fact, pellet heaters use very little electricity, and you won't see a significant increase in your power bill.
Maxi Dimensions and Weight
Big heat requires a big size and it's clear in the weight and dimensions of the Maxi. However, the design of the MacLeod range means the width and depth is similar regardless of which model you go for. The difference is in height. Measuring just over 102cm tall, the Max is the tallest, even taller than the Sapphire. The only thing to keep in mind here is loading pellets into the hopper. Being high off the ground means you will have to lift a 15kg bag of pellets higher than you would for the smaller models.
If this is a concern but you still want to go for the Maxi then I would recommend emptying bags of pellets into a container or bucket and not tipping them directly into the pellet heater. Once in a storage container, like an old chest near the Maxi pellet heater, I would use a scoop or something similar to refill the hopper. If that sounds like too much hassle, then you may want to consider the smaller MacLeod models as they are not as tall and will be easier to refill as you won't have to lift bags of pellets as high. However, due to the size I wouldn't recommend you use the Maxi to heat small areas, like using it as a Tiny house heater, because it's too big.
Maxi Pellet Heater Alternatives
I'll confess and say I own and love my Maxi pellet heater. I love the look of it but I totally understand that some people prefer pellet heaters that look a little more traditional or like a wood heater. If that's you then definitely check out the Grace pellet heater. It's also sold by Pellet Fires Tasmania and offers a similar 13kw heat output with a 22kg hopper. If you are looking for something similar to the Maxi but a little cheaper, than Bass Pellet Heaters in Launceston sells the Bass 09 pellet heater which puts out 12kw of heat and has a 20kg hopper, so it's basically the same, just cheaper.
If the look and style of Chinese pellet heaters doesn't do it for you, then alternative models would depend on where you live. If you are in Tasmania then Tas Energy & Heating offer Piazzetta pellet heaters with the SC Piazzetta range of pellet heaters being closer to the the price of the Maxi. However, keep in mind that Piazzetta is much more expensive. The SC range is Piazzetta's more affordable range of heaters but they are still expensive. Otherwise, if you live outside of Tasmania then check out my where to buy a pellet heater in Australia post to see retailers near you and my best pellet heater in Australia article where I look at some good pellet heater models for those outside of Tasmania.
My Thoughts on the Maxi Pellet Heater
I'm obviously biased as I own a Maxi but they are a great heater. I'd buy a big pellet heater over a small one any day. A bigger sized pellet heater, and it doesn't matter if it's a European pellet heater brand or Chinese, but bigger pellet heaters offer more heat and bigger hoppers. More heat means you'll heat up an area much faster and if you wake up to an unexpectedly super cold morning then you'll really notice the difference extra heat has. You'll also get that bigger hopper which, for lazy people like me, means I can lay on the sofa for three days before refilling my heater.
The Maxi pellet heater is definitely worth looking at if you have a large area you want to heat. The only downside, not that I consider it a downside, is that some people don't like the "look" of the Maxi. It has what is referred to as the European style. American made pellet heaters or American "style" pellet heaters look like wood heaters. That's why the Grace pellet heater is so popular in Tasmania, because people switching away from a wood heater appreciate how it looks. Either way, if you want lots of heat, a big hopper and are looking to heat a large area then definitely check out the Maxi pellet heater.
Resources:
Pellet Fires Tasmania Grace insert 13kw (website)