The Grace pellet heater is the number one selling pellet heater model at Pellet Fires Tasmania and possibly in all of Tasmania. The Grace pellet heater comes in two sizes, 8kw and 13kw, and also three flavours: insert, freestanding and Wellington. Below I take a look at the features of the Grace to help you decide if it is the right pellet heater for you.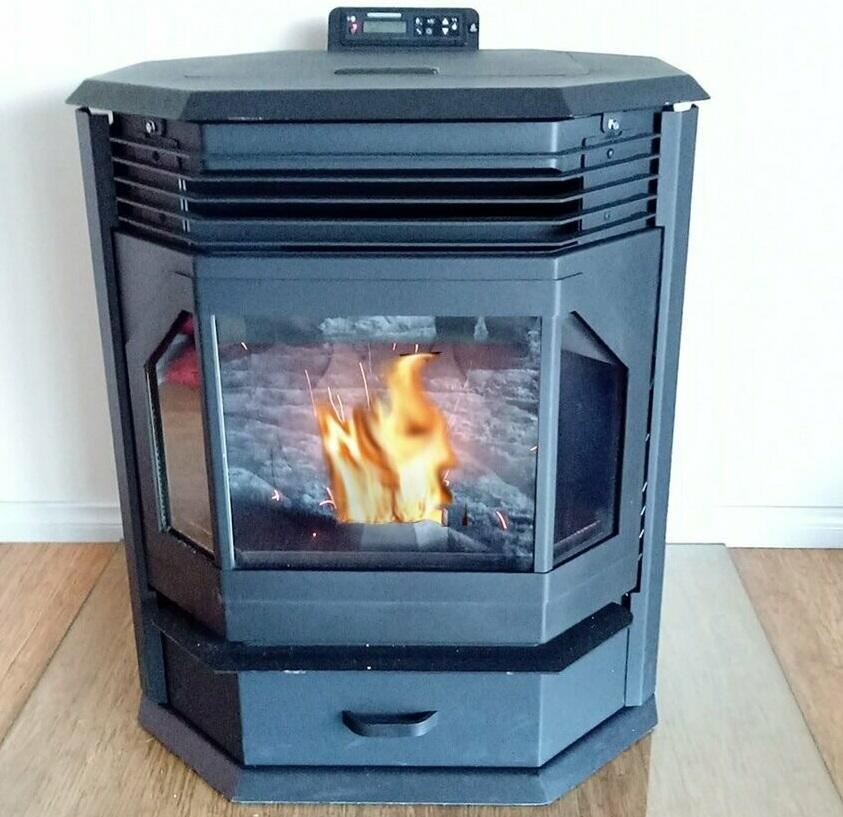 Here's a quick table with all the different types of Grace pellet heater models sold by Pellet Fires Tasmania. My recommendation is the Grace Freestanding 13kw but read on below for a detailed look and review of this amazing pellet heater:
Heater Range
Grace Fireplace
Grace Freestanding
Grace Freestanding
Grace Wellington
Heat Output (High)
13 kW
8 kW
13 kW
13 kW
Heat Output (Low)
2.7 kW
2.7 kW
2.7 kW
2.7 kW
Heat Area
170 m2
110 m2
170 m2
170 m2
Efficiency
>=90%
>=90%
>=90%
>=90%
Hopper capacity
22
12
22
22
Low Burn rate (Avg)
0.6 kg/Hr
0.6 kg/Hr
0.6 kg/Hr
0.6 kg/Hr
High Burn rate (Avg)
2.3 kg/Hr
1.6 kg/Hr
2.3 kg/Hr
2.3 kg/Hr
Electricity consumption
30 to 50 Watts
30 to 50 Watts
30 to 50 Watts
30 to 50 Watts
Ignition
250 to 400 Watts
250 to 400 Watts
250 to 400 Watts
250 to 400 Watts
Dimension WxHxD
1060x950x330 mm
555x720x525 mm
670x770x610 mm
720x765x475 mm
Weight
110 kg
100 kg
110 kg
130 kg
Min fireplace size
650x770x500 mm
Grace Heater Range
You can see the Grace pellet heater comes in 3 different types. There's a fireplace or insert model. There's two freestanding models and finally a Wellington model. The fireplace is an insert pellet heater which goes into an existing fireplace. The freestanding models are just that, standard pellet heaters that you put in a corner or against a wall and there's the Wellington. The Wellington has a different style which is slightly more European in design. The Grace has a more traditional wood heater appearance or an American pellet heater style.
If you prefer a more glass to see the fire and like a wood heater feel, then definitely go for the Grace model. This is the most popular of the Grace pellet heaters for that reason, it reminds people of a wood heater. Obviously if you have a fireplace you want to use, then your only choice is the Grace insert model. Otherwise there's the Grace 13kw or 8kw. Despite visual appearance, you can see from the table above that all the Grace models are essentially the same. So it just comes down to what style you like and if you want an insert or freestanding.
Grace Heat Output
The Grace Fireplace and Grace Wellington both have a high heat output of 13kw, which is ideal for larger living spaces or houses. The Grace Freestanding 13kw model also has a high heat output of 13kw, while the Grace Freestanding 8kw has a lower output of 8kw. The Grace Wellington and both Freestanding models all have a low heat output of 2.7kw, whereas the Grace Fireplace has a slightly higher low heat output of 3.5kw. You can see besides maximum heat output it's all very similar.
So which is best? If you have a large area or house or just want a lot of heat fast, then definitely go for the 13kw variant. The reality is the heater would rarely be running at 13kw for very long as that's so much heat you'd cook yourself. However, the 13kw models have a bigger hopper, which is very handy to have. Having said that, the 13kw models will cost more. So, ultimately how much you want to spend is also important. There's nothing wrong with the 8kw model and it would provide more than enough heat for most houses.
Grace Heating Area
Next, let's look at what size area each Grace model can heat. The Grace Fireplace and Grace Wellington are designed to heat a large area of up to 170 square meters, while the Grace Freestanding 13kw model has the same heating area capacity. The Grace Freestanding 8kw is suitable for smaller spaces, heating an area of up to 110 square meters.
Again, and it clearly has to do with heat output, if you have a large house or area to heat, go the 13kw models. 170 square meters is bigger than my house, so it's the best choice if you are looking to heat a house or very large area. However, keep in mind that the layout of your house is important. If you have an open plan house then the heat will spread more evenly to other rooms than it would if you have lots of doorways and corridors which restrict the flow of warm air.
Grace Heating Efficiency
The great thing about pellet heaters, especially against wood heaters, is just how efficient they are. The good news is all models in the Grace range have an efficiency rating of at least 90%, meaning that they convert a high percentage of wood pellets into heat. This is important for both the environment and for your wallet, as it means that you'll use less fuel to heat your home. All pellet heaters today, doesn't matter if it's a European Piazzetta pellet heater or Palazzetti pellet heater, offer about the same efficiency, around 90%.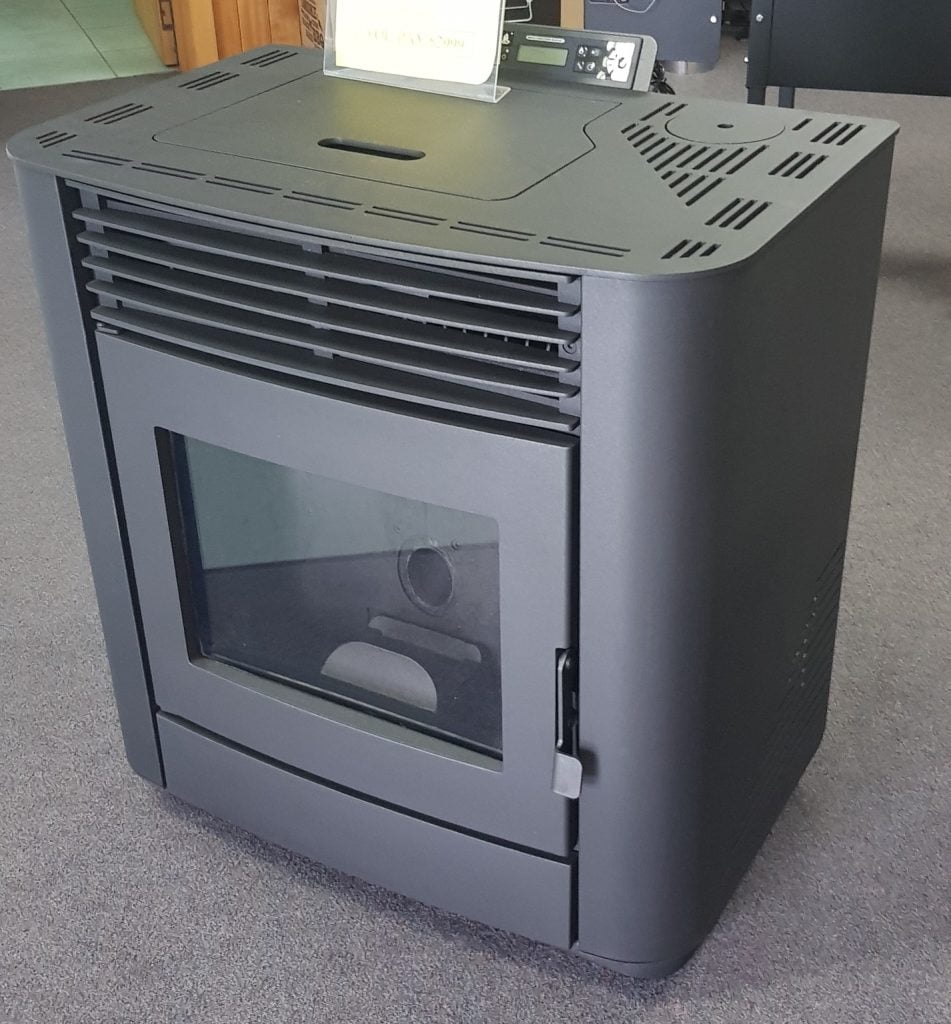 Grace Hopper Capacity
Hopper capacity is, at least in my opinion, a very important consideration for any pellet heater model. The Grace Fireplace and Grace Freestanding 13kw model both have a hopper capacity of 22 kilograms, meaning that you won't have to refill the hopper as often. The Grace Freestanding 8kw model has a smaller hopper capacity of 12 kilograms, while the Grace Wellington has a hopper capacity of 19 kilograms.
I'm a huge fan of big hoppers, because I'm lazy. Even though I am running a 12kw pellet heater and it runs on low most of the time, having a big hopper means I don't have to refill it with wood pellets as often. Now, the reality is even if you have a smaller sized hopper you won't be filling it up as often as you have to put firewood in a wood heater, but I just like the convenience of a big hopper. If you are like me and just want to store as many pellets as you can in the hopper, then definitely go for one of the Grace 13kw models.
Grace Burn Rate
When it comes to burn rate, all models in the Grace range have a low burn rate of 0.6 kilograms per hour on average. There's a difference in maximum burn rate on high with the 8kw model using 1.6kg an hour and the 13kw models using 2.3kg per hour. Higher heat naturally needs more pellets, which is why you see the 13kw models with a higher per hour consumption of pellets in high heat.
The burn rate is naturally linked to the kw heat output. However, don't forget that most heaters will rarely run in high heat mode all the time. So, even a 13kw heater won't be running in high heat all the time and it won't be burning 2.3kg of pellets per hour all the time. Most heaters run in low with high heat only used for the first hour or so to bring the room or surrounding rooms up to temperature.
Grace Electricity Consumption
The electricity consumption and ignition wattage of all the models in the Grace range are identical. They all have an electricity consumption of between 30 and 50 watts, and an ignition wattage of between 250 and 400 watts. This will be true for 90% of pellet heaters out there today. I've got a post on how much electricity pellet heaters use but basically it's very little and you'll see no significant increase in your power bill. So, it really doesn't matter what Grace model you get, they all use the same amount of power.
Grace Heater Size
Finally, let's look at dimensions and weight. The Grace Fireplace has the largest dimensions of all the models in the range, at 1060 x 950 x 330 millimeters, while the Grace Freestanding 8kw has the smallest dimensions of 555 x 720 x 525 millimeters. The Grace Wellington is the heaviest model, weighing in at 130 kilograms, while the Grace Freestanding 8kw is the lightest at 100 kilograms.
Unless you are looking for a tiny house heater, I don't think most people would worry too much about the size of their pellet heater. However, definitely check the size of your fireplace against the Grace Fireplace heater because if the dimensions are out then your heater may not fit into your fireplace. Otherwise, the 8kw model is smaller because it has a smaller hopper.
Brands Similar to the Grace to Consider
If you are looking for something similar to the Grace in terms of heat output, then I'd definitely recommend the Bass 09 pellet heater from Bass Pellet Heaters. While it's only 12kw and has a standard European design, it has similar heat, hopper capacity and does come in considerably cheaper. If you are happy to pay and looking for something made in Europe, then Tas Energy & Heating offer the P944 which has a similar wood heater design but be warned it costs a lot more, a LOT more because it's a Piazzetta pellet heater. However, neither of these or really any heater offers the classic wood heater design with good heat output at an affordable price like the Grace does.
Which Grace Pellet Heater is Best?
Unless you are looking for an insert pellet heater or have a very small area to heat, I'd be going for the Grace 13kw freestanding pellet heater. It has everything going for it and it's why it's the number one selling pellet heater from Pellet Fires Tasmania. Plenty of heat output at 13kw, a good sized hopper and a beautiful design. Naturally if you have a fireplace and want an insert pellet heater the Grace fireplace model is the best choice. Finally, there's nothing wrong with the Wellington but the design, in my opinion, just isn't as good as the other Grace models.
Unfortunately, if you are looking to buy a pellet heater you won't be able to buy one outside of Tasmania. For those in Tasmania, I hope the above at least gave you some useful information on the Grace pellet heater. If you are in Tasmania checkout my top 5 pellet heaters in Tasmania post if you want to see what other models I recommend. If you live in other states around Australia where there are slightly different pellet heater models for sale, then check out my best pellet heater in Australia for some other good pellet heater recommendations.
Resources:
Pellet Fires Tasmania Grace insert 13kw (website) freestanding 13kw (website) and Wellington (website)