Own or looking to buy a pellet heater aka pellet fire? This website dedicated to spreading the good word of pellet heaters, boilers, hydronic central heating, wood pellets and pretty much anything and everything related to pellet heaters in Tasmania and Australia. If you want real heat and are looking for an alternative way to keep your home, shed, shack, caravan or tiny house warm then a pellet heater could be just the thing. You'll get the same kind of heat as you get from a wood heater but with none of the hassle, which is why some people call them pellet fires. To learn more please check the links below or blog posts to get started.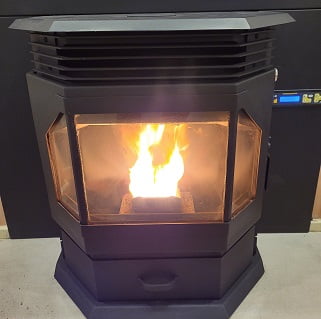 Pellet Heater Resources
What is a pellet heater? – There's probably a very good chance you've never even heard of pellet heaters (pellet fires) or know much about them. Pellet heaters burn wood pellets in a small fire that creates heat. They produce a similar natural heat to a wood fire but with none of the hassle. They do need electricity to run and have moving parts but offer total control over heat output and start and stop with the push of a button.
Pellet heater vs wood heater vs heat pump – Wood heaters and heat pumps are two extremely popular ways to heat your house. Pellet heaters are a mix of both of these kinds of heating. You get real heat, unlike a heat pump, but without the hassle, which is why so many people move away from wood heaters. In this post we break down these three popular types of heating to see how pellet heaters compare and what their strengths and weaknesses are.
Where to buy a pellet heater – Looking to buy a new heater or just want to see what models are available in your area and ask retailers some questions before you take the plunge? This is a list of retailers in Tasmania along with models and general price range. Live outside of Tasmania? Then check out the where to buy a pellet heater in Australia post to find your nearest retailer.
Where to buy wood pellets – One of the biggest considerations is where and how much pellets cost in your area. What you pay for wood pellets will have a huge impact on the running costs of your heater. While specific for Tasmania, please check out our other post on wood pellet retailers in Australia if you live on the mainland but want to know how much pellets cost in your area or where to buy them.
Buying a used pellet heater – Want to save some money buying a used heater? New heaters aren't cheap and you could save thousands of dollars by purchasing a second hand one. However, make sure you check under the "bonnet" before forking out cash for anything you find on FaceBook marketplace or Gumtree. This is a handy post that'll give you some hints on tips on what to look for so you don't end up with a lemon of a heater.
Will a pellet heater heat my house – A common question or concern is that pellet heaters don't put out enough heat. People worry their heater won't be able to keep their house warm. Like any type of heater, there are many factors to consider such as how well insulated and how big your house is. Pellet heaters are great heaters but read this to make sure you get the most out of your heater and keep your house as warm as possible during winter.
Also, why not join our Tassie Pellet Heater Owners Facebook group if you'd like to meet other pellet heater owners and be part of a great community. There's also an Australian Pellet Heater Owners Facebook group for anyone outside of Tasmania. These groups aim to spread the good word of pellet heaters and help answer any questions people may have about them. It would be great if you joined.
Who am I? I'm just a regular pellet head living in Tasmania, Australia. Like many people I love the heat of a wood fire but hate the work involved with splitting, stacking, drying, moving and all the hassle that comes with firewood. I have a heat pump in my house and the convenience is nice but the heat doesn't feel natural. One day I stumbled upon pellet heaters and fell in love. Real heat, less hassle, what more could I want, especially in the middle of winter. If you haven't guessed by now I love pellet heaters and created this site to help educate others about them.
I hope you find the website useful. If you do, I'd appreciate it if you shared it with friends or linked to it from your own site. If you'd like to know more about me and how I ended up creating this website, read the About Tasmania Pellet Heater Owners post I made. Happy heating and stay warm!