We're lucky in Tasmania, maybe too lucky, because there are at least six businesses that sell pellet heaters. A very well known one, Bass Pellet Heaters, is based out of Launceston, Tasmania and sells a range of Chinese and European pellet heaters along with hydronic pellet boilers. I think it's safe to say that Bass Pellet is the second most popular pellet heater retailer in Tasmania, coming in behind Pellet Fires Tasmania. Below I take a look at what makes Bass different to PFTas to help you decide where to buy your next pellet heater from.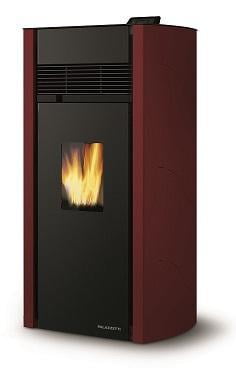 History of Bass Pellet Heaters
If you browse the Bass Pellet Heaters website there's very little information about the history of the company or even the company in general. As of February 2023, the only information about their business on their website is "Bass Pellet Heaters are a locally owned and operated company" which goes on to talk about the kinds of wood pellets they sell. Their Facebook page provides a little more info and you can see that the page was created on the 9th of June 2017. There's really very little to go. Basically, it's a business in Launcestion that has been selling pellet heaters at least since 2017.
Bass Pellet Heaters Locations
As mentioned above, Bass Pellet Heaters has only one location, which is in Launceston, Tasmania. There's a phone number, email address and a comment submission box on the website allowing you to leave them a message.
Bass Pellet Heaters Models and Services
Bass offers a range of pellet heaters to suit different needs and budgets. The models they sell fall into two broad categories. First, the main line or majority of the heaters they list are made in China. These include both freestanding and insert heaters. They also sell a hydronic pellet heater that is also Chinese made. More recently they started selling a European branded pellet heater, the Bianca Lux, which is a Palazzetti pellet heater.
Pellet Heater Models
Details of the heaters they sell are below. As you can see most are freestanding with one insert, one boiler and one European model. They have at least one unique designed heater, the Bass06, which is a "flat" heater in that is is thinner and doesn't stick out as much from the wall but is obviously longer to make up for this:
Bass 06 pellet heater 9kw freestanding
Bass 10 pellet heater7kw freestanding
Bass 26 pellet heater11kw insert
Bianca Lux pellet heater 12kw freestanding
Bass 37 hydronic pellet boiler
Prices for the Bass range (Chinese heater) is about $2,750 to $3,500. The Bianca Lux (European Palazzetti) is $6,200. Heat output ranges from a maximum of 9kw to 12kw, which is more than enough for most houses and if not the pellet boiler looks to be a 35kw model. There are many European pellet heaters in Tasmania and the ones available are usually Piazzetta pellet heaters and cost a lot more than the Palazzetti Bass sells.
Pellet Heater Warranty
Absolutely no information is provided online regarding warranty of their heaters. However, after a little bit of digging you'll find warranty information in the user manuals for the heaters they sell. Bass offer a 2 year warranty with the overall terms and conditions:
To get warranty service, bring warranty card and purchase invoice to the distributor.
Warranty covers faults caused by manufacturing errors or poor quality.
Warranty is void if the heater is refitted, altered, or used improperly.
Improper use or maintenance is not covered by the warranty.
Altering warranty card or purchase invoice voids the warranty.
Keep warranty card and purchase invoice safe, no replacements will be issued if lost.
Pellet Heater Parts
Bass does stock and sell parts but no information or prices are shown online.
Wood Pellet Prices and Services
Bass Pellet Heaters not only sells pellet heaters and boilers but also sells EcoPellets wood pellets. They stock the full range of EcoPellets which includes hardwood (budget), premium (50/50 mix of hardwood and softwood) and pine pellets. For latest prices please check the Tasmanian wood pellets post that I update frequently.
Bass also offer servicing for their pellet heaters. However, again very little to no information is provided on the website. They do no list servicing costs, the distance they'll travel or what the fee includes.
My Thoughts on Bass Pellet Heaters
Just looking at the website and assuming you knew nothing about the business and pellet heaters, I think I'd come away with a lot of questions. They do display prices for pellet heaters and wood pellets on the website but there's very little other information. There's the usual contact details and very brief information on the types of pellet heaters they sell, but there's nothing about who the company is, what they do or specialize in. This isn't necessarily a bad thing, but I think retailers offering lots of information up front is great, which is why I wrote a post on questions to ask retailers about pellet heaters before making a purchase.
Bass Pellet Heaters does, however, have very good pellet heater prices in Tasmania. Their pellet heaters, regardless of kw output, are about $1,000 to $1,500 cheaper than Pellet Fires Tasmania, who is their main competition. If you would prefer or want to check out a European pellet heater, then Bass Pellet Heaters also sell at least one European model. Again, this is something that Pellet Fires Tasmania doesn't offer as all of their heaters are Chinese made. Also, if you want to buy wood pellets in Tasmania their prices are very reasonable, being the same or only a slightly bit higher than Pellet Fires Tasmania.
So should you buy from Bass Pellet Heaters? If price is high on your list, then it's difficult to beat Bass Pellet Heaters. They are at least $1,000 cheaper than Pellet Fires Tasmania for a similar sized model and even their European Bianca Lux pellet heater is cheaper than Piazzetta heaters sold by Tas Energy & Heating in Tasmania. So if you want the best price on pellet heaters or as some call them pellet fires, definitely check them out. My only concern is the limited information on the website. There's nothing bad about this but it means I'd be asking about part prices, warranty, servicing fees and everything else when I visited the store.