If you live outside of Tasmania, then finding the best pellet heater in Australia for your needs can be a challenge. This is because there are limited brands and retailers selling pellet heaters outside of Tasmania on the mainland in Australia. It's easy to buy a pellet heater in Tasmania and to help those who don't live in Tasmania but are looking to buy a pellet heater I've curated a list of what I think are the best pellet heaters in Australia right now to buy based on a range of factors.
When determining the best heater for each category, I took price, features, warranty and service into consideration. You'll see the list is dominated by European pellet heaters, primarily Piazzetta pellet heaters. This is because there are plenty of retailers that sell this brand and that means the support and service will be great, which is essential when buying a pellet heater. If you want to know where to buy the heaters below, please check out where to buy pellet heaters in Australia for a list of retailers.
Best Budget – Piazzetta Cleo SC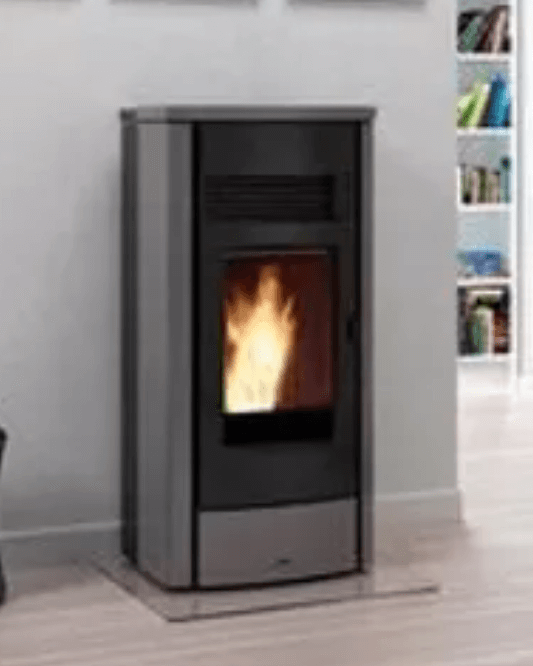 The Piazzetta Cleo SC (Italian heater) is a great pellet heater for those looking to heat small areas on a budget and is possibly the cheapest brand name pellet heater outside of Tasmania. This heater offers up to 6kw of heat, which is great for small to medium sized areas. This might be a budget heater but being a Piazzetta it is extremely high quality and reliable. However, due to it's small size the hopper can only hold 10.5kg of pellets and is best suited for small areas or rooms where you won't be running the heater constantly. If you are on a budget and don't want to heat a massive area, this is a great budget pellet heater.
Pros:
Great price for an entry level Piazzetta pellet heater
High quality Piazzetta design with handy features such as low pellet warning
Cons:
Running on high heat all the time will require frequent refilling of the hopper with pellets.
Small hopper capacity of 10.5kg holds less than one bag of pellets
Best Value – Botany Exclusive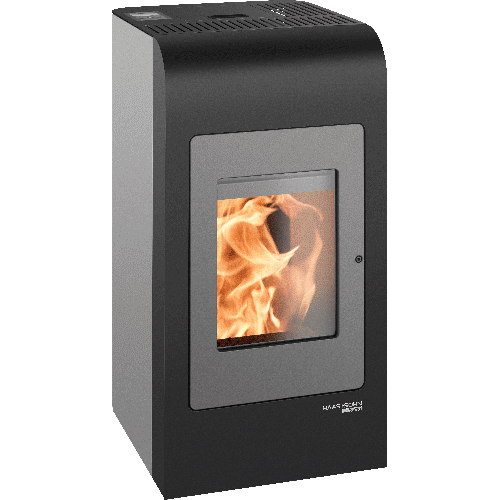 The Botany or Botany Exclusive pellet heater offers great value at a reasonable price. In terms of value I think this is the best pellet heater in Australia right now. It's an Austrian brand that comes bundled with plenty of features you'd typically find in more expensive models, such as a good amount of heat output and a decent sized hopper, but at a reasonable price.
Offering up to 8.5kw of heat, it will heat up to 180m2 rooms and a 17kg hopper will hold more than one bag of pellets. There are other heaters out there with a bigger heat output and hopper but they'll cost you a lot more than what the Botany sells for. A slightly bigger hopper would have been nice, but considering the price and overall features, I think it's the best value pellet heater in Australia taking price and features into consideration.
Pros:
8.5kw heat is more than enough heat for most people
17kg hopper holds more than one bag of pellets
Good value for money compared to other more expensive models
Cons:
Despite the value it offers, a bigger hopper to hold more pellets would have been good
Some people may want more heat output if looking to heat very large areas or multiple rooms
Best Heat – Piazzetta SY P963M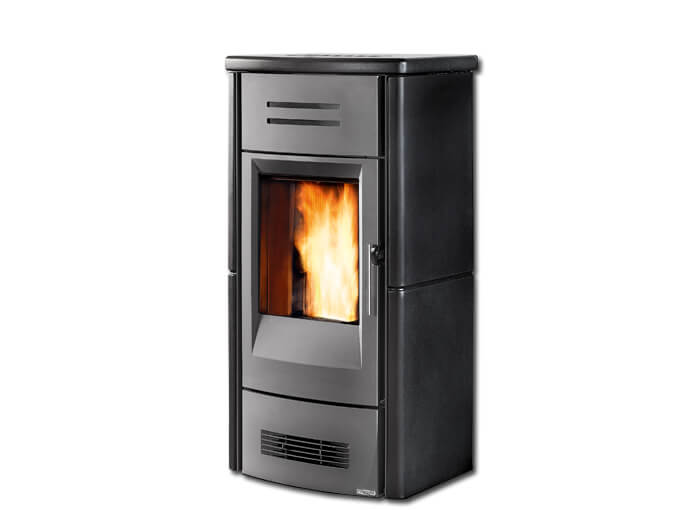 The Piazzetta SY P963M (Italian heater) offers massive heat output and and plenty of features. The 12.3kw heat will heat up to 315m2 and should be enough for massive rooms and warming a house. So much heat requires a lot of pellets, which is why it comes with a 30kg hopper. That's enough to hold two bags of pellets and will keep this heater running for a very long time. Italian pellet heaters aren't cheap but the SY P963M offers great heat with a big hopper at a reasonable price when compared to more expensive Piazzetta models that have a smaller hopper and less heat output. Definitely the best pellet heater for maximum heat but it's not cheap.
Pros:
12.3kw heat is more than enough heat for anyone
Massive 30kg hopper will hold two bags of pellets
While expensive, it is cheaper than other models and has better features (heat output, hopper size etc)
Cons:
Even though it has good heat output and other features, it's not cheap and definitely not a budget heater.
Best Style – Piazzetta P944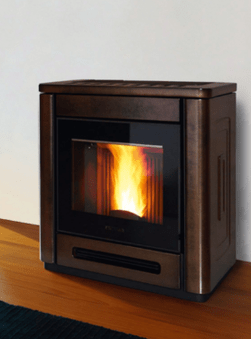 The Piazzetta P944 (Italian brand) is what I consider the best style. Now, style is subjective but if you are looking for a heater that looks like a wood heater, then this is definitely something to consider. Not only does it look great but also comes with a decent 9kw heat output and it's 18kg hopper can hold more than one bag of pellets. However, it's definitely not cheap and there are other heaters out there with more heat and bigger hopper that cost considerably less. However, if style is important to you and you want a pellet heater that really stands out, then the P944 could be right for you.
Pros:
Great design which resembles a wood heater
9kw heat output is enough for most people
Decent sized 18kg hopper will hold more than a bag of pellets
Cons:
Expensive considering other models offer more heat and hopper capacity for less money
Not everyone will like the style
Best Insert – Piazzetta IP11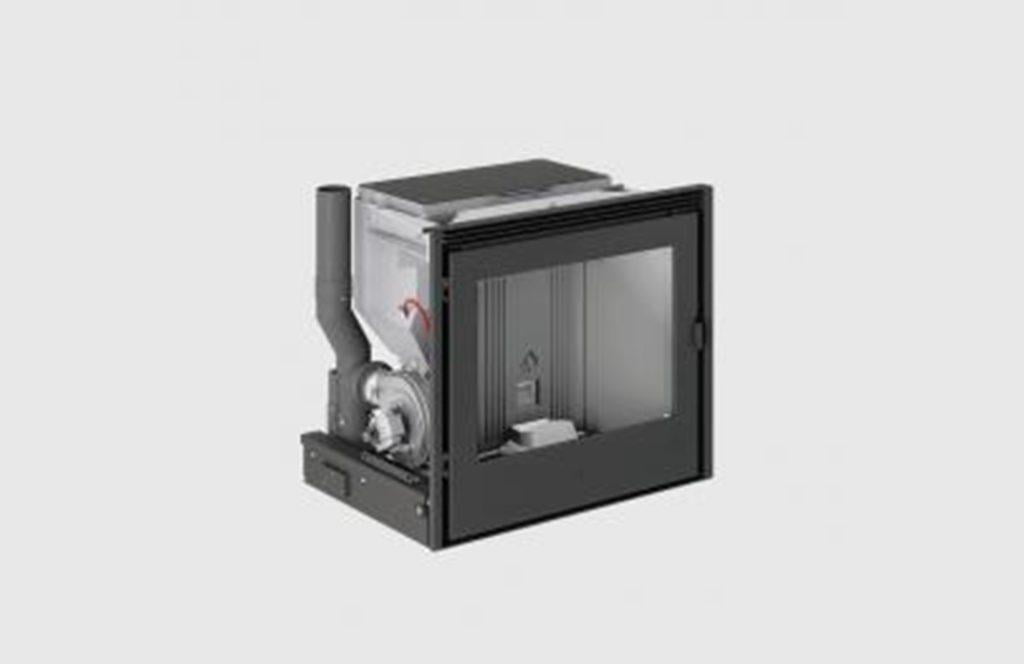 Lucky last is the best insert, the Piazzetta IP11 (Italian heater). Insert pellet heaters have some advantages over the freestanding pellet heaters above, but there aren't many models available, which limits choice, but the P11 I think is the best choice in Australia if you want an insert pellet heater. It offers 11kw of heat output, more than enough, but also comes with a nice 22kg hopper. Overall the P11 is reasonably priced considering the immense heat and good hopper capacity but it is an insert. It will only be suitable for open fireplaces. There are smaller insert models, the P9 and P7, but the price difference is minimal, which is why I recommend getting the biggest model.
Pros:
11kw of heat is great for very large rooms or multiple rooms
22kg hopper holds enough pellets for most people
Reasonably priced compared to more expensive Piazzetta models that are less heat output and small hoppers
Cons:
Inserts are only suitable for open fireplaces
Best Pellet Heaters in Australia Summary
For me the best pellet heater is one that does what you need it to do. This could be the best value or the best model to blend in with your lounge room. As above, check out the retailers to see where you can buy a pellet heater locally and also be sure to check what it will cost you to buy wood pellets in Australia to get an idea of pellet heater running costs if you are yet to buy your pellet heater. Lastly, you don't have to buy a new heater. Read my used pellet heater tips post to see how you can save money buying a secondhand heater and still get a great deal.