BBQs Galore sold, well technically still "sells", the Ziegler and Brown range of pellet heaters. BBQs Galore have essentially washed their hands of selling pellet heater with the only last model being available online (their website and Ebay). They still sell pellets but it's clear their target market now is bbqs and smokers not heaters for heating. Read my post about Bunnings and BBQs Galore pellet heaters if you want to know more about why they got out of the pellet heater market. The Ziegler and Brown came in three models: the Komfort (6kw heater) and the Flamme (8kw freestanding and insert).
Ziegler and Brown Pellet Heater Features
Regardless if it was the Komfort or Flamme, the Ziegler and Brown pellet heaters all came with the same features and control panel. This is common for most pellet heaters still sold today. The main difference between models is how they look, their hopper size and dimensions. Everything else, the basic features, control panel and operation remains the same. Below is the control panel found on all Ziegler and Brown pellet heaters:

The only difference to the control panel when compared to pellet heaters still being sold today is the layout. There's an on/off button. A warning or alarm light, some buttons to navigate around menus, a timer button to set a weekly timer and in the middle an LCD screen. Pellet heaters may be mechanical machines, at least compared to wood heaters, but they are not complex and their design and operation remains essentially the same since they were first introduced in the late 1970s/early 1980s. The LCD screen again displays information you'll find on just about all pellet heaters today: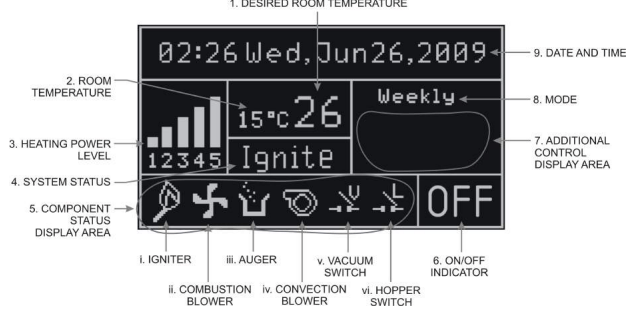 Essentially, you've got startup and warning information at the bottom. The middle shows the current heat settings (low to high etc) along with the current and target room temperature. Finally, you've got the date and time at the top which is relevant for setting the weekly timer. These pellet heaters also came with a remote control. Most modern pellet heaters today use WiFi, which has removed the need for a remote control as the pellet heater can be controlled using a mobile phone.
Ziegler and Brown Komfort Pellet Heater
The smallest model was the Komfort. A 6kw pellet heater. It appears to have cost about $1,995 and was being sold around 2015. Below were the specs of the heater:
| Feature | Value |
| --- | --- |
| Heat Output kW/h | 6 |
| Fuel Consumption kg/h | 1 ± 5% |
| Heating Area m² | ~80 |
| Hopper Kg | 20 |
| Venting Pipe Diameter mm | 80 |
| Air Input Pipe Diameter mm | 50 |
| Unit Dimensions mm (WxDxH) | 463 x 617 x 868 |
It was suitable for heating up to 80m2 and had a fairly decent sized 20kg hopper. For comparison, many modern Piazzetta pellet heaters and Palazzetti pellet heaters which cost about twice what the Komfort used to sell for often come with smaller sized hoppers. Being only 6kw it burnt around 1kg of pellets an hour (a bag of pellets would last 15 hours on high or about 25 hours on low) and was smallish in size, only 86cm high and about 46cm wide. Again, despite being the smallest of the models at 6kw it definitely could put out enough heat for most people's needs.
Komfort Customer Feedback
While the Komfort pellet heater is no longer sold by BBQs Galore (you can still see them being sold second hand online sometimes), a quick search online and you'll see that the pellet heater didn't see to perform very well. ProductReview has four ratings giving the Komfort 2 out of 5 starts, pretty bad. Here's a summary of the main points:
The pellet heater often fails to ignite and the burn pot is burning out.
Unable to find a replacement burn pot, raising concerns about the heater's longevity.
The heater constantly shuts down down due to high temperature and producing a lot of smoke.
Difficulties in getting support from the retailer and the manufacturer.
Pellet heater replaced under warranty but the new one is also unreliable.
Now, there were only 4 reviews for the Komfort, so take it with a grain of salt. However, there's a common trend in the reviews people post and I believe most of the issues they experience are not due to the pellet heater but are user or service related. First, the pellet heater fails to light, shuts down or produces a lot of smoke. A pellet heater failing to light can be caused by a feed rate being too high, which causes too many pellets being fed into the burn pot. Pellets won't catch fire if there's too many because any fire that does start just gets smothered.
Second, the pellet heating shutting down or producing a lot of smoke can also be caused by feed rate too high or the pellet heater not being serviced. Even if the fire does light and the pellet heater is running, if the feed rate is too high it can smother the fire and cause it to go out. When pellet heaters are installed they should be "tuned" so the airflow matches the flue and installation in your house. I've also talked elsewhere about how pellet heaters need to be serviced yearly. Not doing this cause the airways to block up and will cause problems.
Finally, there are comments about issues getting parts or support from the retailer and manufacturer. This is why I've talked about the importance of buying a pellet heater from a retailer that is established and has skin in the game (read my questions to ask before buying a pellet heater for more info). I understand some people are happy to DIY and fix their heater themselves, but most people aren't and it's a big barrier to getting people to buy their first pellet heater if they worry about future support.
Ziegler and Brown Flamme Pellet Heater
The big brother, or I should say brothers, to the Komfort was the Flamme. It came in two flavours: a freestanding and insert or fireplace model. Everything else, except dimensions, is identical between these two models:
Feature
Model Flamme
Model Flamme Inbuilt
Heat Output
8 kW
8 kW
Fuel Consumption
1 kg/h ± 5%
1 kg/h ± 5%
Heating Area
~90 m²
~90 m²
Hopper
24 kg
24 kg
Venting Pipe Diameter
80 mm
80 mm
Air Input Pipe Diameter
50 mm
50 mm
Unit Size (width x depth x height)
599 x 627 x 883 mm
Fascia: 1021 x 35 x 822 mm;
Cabinet (front): 557 x 338 x634 mm;
Cabinet (rear): 500 x 219 x 600 mm
The Flamme offers a higher heat output and a slightly bigger hopper. The burn rate was similar, it should be slightly higher because at 8kw of heat more pellets are required, so I don't believe the fuel consumption figures are 100% accurate. Otherwise, the Komfort and the Flamme are essentially the same and function identically as they have the some control panel and features. The Flamme inbuilt or insert is still being sold today by BBQs Galore. It's the only remaining pellet heater they sell and as I mentioned above it's basically available online only and I doubt you'll find them in any stores around Australia.
Flamme Customer Feedback
Unlike the Komfort above, I can't find any actual reviews of the Flamme pellet heater anywhere online. The best I can find is a few comments on the Komfort Productreview above where people are having problems with igniters and control panels. Again, these pellet heaters would be at least 5+ years older and it's not unusual for igniters to be replaced every few years. Again, this is why it is important to buy from a retailer who will be in business in the future and doesn't decide to stop selling pellet heaters like BBQ Galore did.
Should You Buy a Ziegler and Brown Pellet Heater?
The only model left to buy new is the Flamme insert. So, should you buy this pellet heater? Regardless what people may say online about either of these two pellet heaters, there's nothing wrong with Ziegler and Brown pellet heaters. They work. They burn pellets. They function essentially the same as every other pellet heater being sold today. However, the problem is with the retailer and support. You may have difficulty getting parts in the future.
BBQs Galore is getting or basically already out of selling pellet heaters. This means if you ever need any parts you may have difficulty sourcing them. By law, parts must be provided by the retailer or manufacturer up to 10 years after the product is no longer for sale. You can still get parts for these heaters today from BBQs Galore but it's not easy. They don't keep anything in stock and must order whatever you need in. That's not good if your heater breaks down in the middle of winter and you have to waits weeks for a part to arrive.
My Thoughts on Ziegler and Brown Pellet Heaters
I can't recommend anyone buy a Ziegler and Brown pellet heater unless they fully understand there will possibly be problems getting parts in the future. The insert Flamme still being sold today by BBQs Galore is only $995 (as of 12/06/2023), so it's great value and a good way to test the waters with a pellet heater. However, if you are looking to buy your very first pellet heater and want the best possible experience, then buy a pellet heater from another retailer who can provide any support you may need going forward.
If you are looking to buy a pellet heater in Tasmania then you will have a wide range of heaters to choose from. Pellet Fires Tasmania and Bass Pellet are two popular retailers in Lonnie and Hobart. While most of the heaters, just like the Ziegler and Brown models, are made in China, there's nothing wrong with Chinese made pellet heaters. However, if you live outside of Tasmania then most likely any retailers nearby sell European pellet heaters. No matter who or what type of heater you buy from just make sure you buy from a retailer who will be around to provide support.
Resources
BBQs Galore Flamme pellet heater
Troubleshooting Guide
Pressure Switch Guide