Bunnings and BBQs Galore no longer sell pellet heaters for heating. If you want to buy a pellet heater, you can't get one from Bunnings. The only thing they sold up until recently was pellet heater flues, but as of 2023 they are completely out of the pellet heater game. BBQs Galore still sells one pellet heater model but they aren't available in every store and very difficult to find. Basically the only place you can find either of these two types of pellet heaters from Bunnings or BBQs Galore is online on Gumtree or FaceBook marketplace. So what happened? Why did Bunnings and BBQs Galore stop selling pellet heaters? While there's an official reason, at least from Bunnings about why they stopped selling them, I think there is actually much more to it.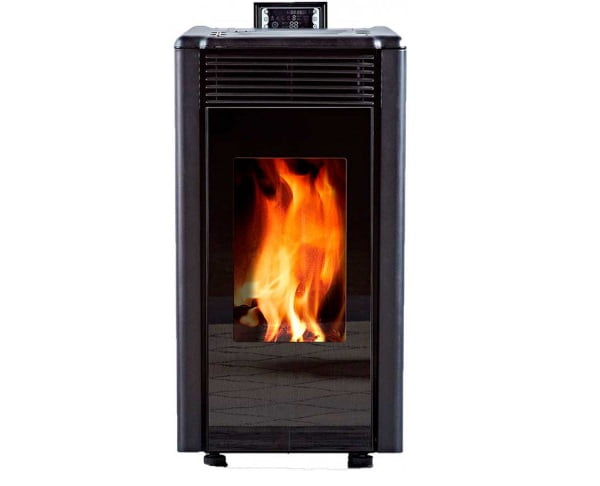 Looking to Buy a Pellet Heater?
If you are looking to buy a pellet heater you can't get one from Bunnings. If you are outside of Tasmania in Australia, go read my Australian pellet heater retailer list to find a retailer closest to you. If you are in Tasmania, then check out where to buy a pellet heater in Tasmania. Both of these list in detail where you can buy a pellet heater around Australia since Bunnings and even BBQs Galore basically no longer sell them. Otherwise, read on to learn why I think Bunnings and BBQs Galore stopped selling pellet heaters.
Potential Safety Reasons
In 2020 a product safety recall was issued for Scandia Verdent LE pellet heaters. This product recall was issued because some of the Scandia Verdent LE pellet fires had a possible grounding issue. Product recalls are obviously time consuming for retailers and a massive headache to undertake. It makes sense that this product recall made Bunnings reconsider if it was worth selling pellet heaters and possibly used the recall to justify getting out of the pellet heater market due to safety concerns. As for BBQs Galore, they sell a different model, which has never had a safety recall, but the only place you can buy one easily from BBQs Galore is online on their Ebay store. So what else happened to make both of these retailers bail on the pellet heater market?
Lack of Product Support
I believe the real reason Bunnings and BBQs Galore stopped selling pellet heaters is because they didn't understand the product and pellet heater market. Wood heaters are easy to sell and both Bunnings and BBQs Galore continue to sell wood heaters to this day. Selling wood heaters goes something like this. You sell the heater in store, then the customer either arranges installation themselves or pays the retailer to organise it for them. Once installed you will most likely never see or hear from the customer again. Wood heaters are simple to operate and most people know to clean and look after them. They rarely, if ever, "break down" and are extremely easy to use and operate.
Now, you can still buy wood pellets at Bunnings and BBQs Galore, so what's the difference between selling wood pellets and pellet heaters? Wood pellets are simple to use. You burn them and buy more. There's really not much that can go wrong. This isn't the case for pellet heaters. Pellet heaters, however, need a little TLC, which is something I think Bunnings and BBQs Galore were not aware of or just didn't care about. If you've read the questions to ask before buying a pellet heater post I talk about the importance of buying from a retailer who can support their product. I think Bunnings and BBQs Galore stopped selling pellet heaters because they weren't setup and didn't want to provide the support to customers.
Neither of these retailers are used to providing ongoing support and maintenance, at least not extensive support pellet heaters require. First, pellet heaters should be installed by a professional. Yes, you can do it yourself but most people don't know how to tune a pellet heater to burn efficiently. They need to be serviced yearly, something wood heaters, other than the flue, don't require. Also, pellet heaters are more complex to operate than a wood heater. Anyone can learn to use a pellet heater but there is a learning curve to understand how they function. If there's a problem with a pellet heater, you need to have some understanding of how they work to troubleshoot issues.
I think a majority of customers buying Bunnings pellet heaters would have been installing the heater themselves. Many would have assumed pellet heaters work like a wood heater, which is true in the sense they both burn wood to generate heat, but not true in the sense pellet heaters require more general maintenance and cleaning. Again, this is completely different to a wood heater, where all a customer needs to know is how to light a fire. Cleaning a wood heater involves emptying some ash and cleaning a glass door. Finally, pellet heaters have a wider range of parts that need to be replaced, again something wood heater owners aren't used to.
Wood heaters do need parts replaced but more often than not it is just door seals. Wood heaters are simple and have almost no moving parts, so things generally don't break or wear out. Pellet heaters, however, have parts that potentially need to be replaced. Again, I think this is something Bunnings and BBQs Galore just weren't prepared for. Stocking a large range of parts for customers who need them at short notice is expensive and having to order them in obviously takes time, something most customers would not be happy with as it potentially means waiting for weeks in the middle of winter for parts to arrive to repair their pellet heater.
Poor Market Research
I think Bunnings and BBQs Galore just didn't understand what was involved in selling pellet heaters. Their business model is churn and burn. They make money on massive turn over and don't really need to support their products beyond offering a replacement if it is broken or a refund. Pellet heaters, however, need ongoing maintenance and customers need to be educated on how to use them, something I doubt either store bothered to do. You can look at the videos that remain online and there's very little to nothing about maintenance and correct usage of a pellet heater by either store.
In all fairness it's not just Bunnings and BBQs Galore who failed to understand the pellet heater market. There have been several businesses that failed to understand the kind of support and ongoing service pellet heaters require. In Tasmania, PFTas is the longest running and most established place to buy heaters and wood pellets in Tasmania but that's because they've focused on service and support. Some people who buy pellet heaters can DIY and look after the heater themselves, but I've seen again and again the majority of people need someone to professionally service their heater.
A lot of retailers in Tasmania sell wood pellets, just like Bunnings sell hardwood pellets in 15kg bags, but they don't sell pellet heaters. Pellets are used for a lot of things, pellet heater, bbqs, smokers and they are easy to sell, as I mentioned above. Unfortunately, supporting and understanding the pellet heater market is much harder than selling wood pellets, which is why Bunnings and BBQs Galore to this day continue to sell a variety of pellets. It's much easier and it's the kind of business they understand.
What Pellet Heaters Did Bunnings Sell?
Bunnings sold Scandia Verdant LE pellet heaters (they actually called them pellet fires). This was a 7kw European style pellet heater as shown below.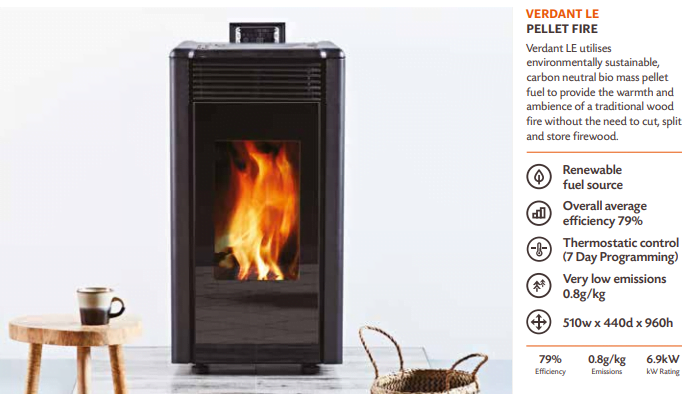 This pellet heater was a Chinese made pellet heater that had all the standard features you find in pellet heaters. It had a weekly timer schedule to switch on and off but interestingly had a delayed start-up and shut-down so it could switch off after a set amount of time. You could also adjust the feed rate, something not common in most modern pellet heaters today or if it is it is very limited. It also came with a remote control but no WiFi functionality.
At 7kw this was a more than enough to heat just about any size room and it would definitely have taken the chill off the rest of the house. The only "negative" would be it doesn't look like a typically wood heater but instead follows the European design of modern pellet heaters. As I mentioned above, you can still find these being sold second hand on FaceBook and Gumtree. All in all, there's nothing wrong with this pellet heater and if you can get one second hand cheap, I'd definitely go for it.
What Pellet Heaters Did BBQs Galore Sell?
As of May 2023 BBQs Galore still sell Ziegler and Brown pellet heaters. You can find the last remaining pellet heater they sell HERE. This brand is just a rebadged made in China pellet heater and if you search online you'll find plenty of wholesalers in China still selling this model. It's actually also sold in the USA and probably other countries around the world by different retailers.
They sold three models of pellet heaters. A small model called the Komfort which was 6kw, a freestanding 8kw model called the Flamme and an insert version of the Flamme, shown here on the right. These three models came with all the standard pellet heater features, except WiFi. Timer to switch on and off, a remote control and pretty much everything that is standard on pellet heaters today.
At 6kw and 8kw this pellet heater, just like the Bunnings Scandia model, is more than enough to heat any room and warm your house. The Flamme insert, again shown on the right, is still available to buy today and at currently $995 it's a bargain. It would be a great option for anyone looking to buy their first pellet heater. They are also sometimes sold second hand, so keep an eye on FB and Gumtree marketplaces if interested in buying on.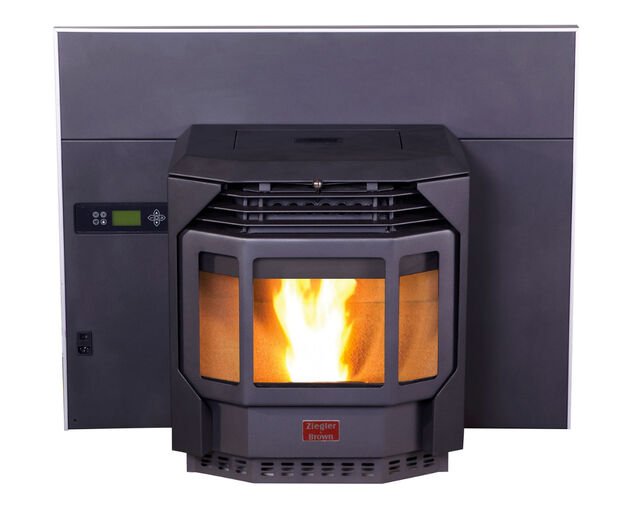 Conclusion
If you haven't already, go and read the pellet heater post about questions to ask before buying a pellet heater. If you can't be bothered, I'll save you the time 🙂 Buy from a retailer who supports their product and has been in the pellet heater business for several years. They have to be able to supply you with parts that are in stock and offer servicing if you can't or don't want to DIY service your pellet heater. Do this and you'll save yourself a lot of trouble, have years of hassle free heating and get the best pellet heater possible.