Which model pellet heater is right for you depends on your home you want to heat (such as size and how well insulated it is) and personal heating preferences (is 24 degrees Celsius just right or too hot?). Pellet heater models vary in how much heat they put out, the features and functions they come bundled with and where they are made. You could easily save hundreds or thousands of dollar by picking a model that suits your heating needs. Remember to check out questions to ask before buying a pellet heater post if you haven't already. Otherwise, read on for some tips on how to decide which pellet heater is right for you and your home.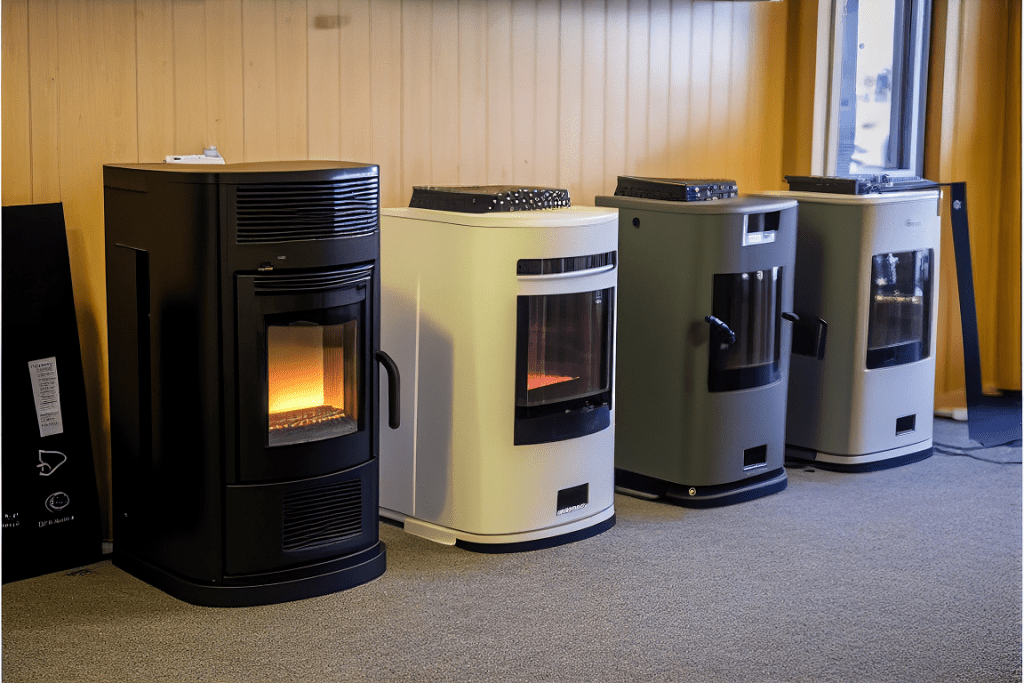 The Size of Your Home and Heat Output
The size of the area you want to heat, including the total size of your house, plays a big part in determining the size and heat output of the best pellet heater fo r you. I briefly touched on this in the can a pellet heater heat my house post. Obviously, the bigger the area you are trying to heat, the greater the heat output you'll want from your pellet heater. Pellet heaters are space heaters, just like wood heaters, meaning they heat the room they are in best, but this doesn't mean the rest of your house can't also be heated. Larger pellet heaters are also able to heat areas faster as they put out more heat.
How well your house is insulated will also play a big role here. A very well insulated house will lose less heat, so you don't need as much heat to keep the house warm. If you have an old, draughty house then you will need a lot of heat to keep it at a comfortable temperature. The easy thing to do here is to just buy a big pellet heater to compensate for a poorly insulated house but I'd strongly recommend you insulate your house first. It's not hard to do, is cheap and will save you money in the long run. Even if you don't have a pellet heater yet, you should still insulate your house where possible.
Looking to heat a large house or just want heat as fast as possible? Then you'll probably want a 13kw model. Smaller models put out 6kw to 8kw, which is more than enough to heat a single room and warm your house and I think for most people these smaller heaters would still be fine, especially if you live in a small house. There can be up to $2000 in price difference between a 6kw and 13kw heater, so have a good think about what your heating needs are. How big is the room? Are you looking to try and heat the rest of your house or just looking to heat the room the heater will be in?
The Benefits of a Large Hopper
One of the great things about pellet heaters is not having to put fuel in every few hours, so I think larger hoppers are better. The bigger the hopper in a pellet heater, the less often you'll have to refill it. Small to medium pellet heaters typically have 15kg hoppers, which can hold 1 bag of pellets, whereas larger models have up to 30kg hoppers, or 2 bags of pellets. If you plan on using your pellet heater a lot, maybe you live in a cold area or just like to stay warm and toasty, then I'd be putting hopper size at the top of my list when looking at heaters because you won't need to refill it as often.
If you only plan to use your heater for a couple of hours a day or your winters aren't very long, then hopper size may not be that important and picking a model with a smaller hopper makes sense as you won't need to fill it much. Pellet heaters with smaller hoppers may also cost less, thus saving you money, but be careful because hopper size is just one feature that can affect price of a pellet heater. Regardless, even with a small 15kg hopper you won't be refilling it with wood pellets very often, probably about once every 2 days depending on how often you run it.
WiFi and Other Features: The Cost Consideration
Even though pellet heaters have been around since the 1980s and haven't changed much, what has changed is how you can control them. Most modern heaters nowadays come with built in WiFi, remote controls and a bunch of other features, all which naturally may cost extra depending on the brand. The advantage of WiFi in a pellet heater is that you can turn your heater on and off remotely, change the temperature, and even set scheduling hours for the heater to automatically switch on and off. Like the idea of coming home to a warm house? Then WiFi is something you'll probably want to consider BUT it's not the be all and end all.
Most modern pellet heaters have a timer function, which lets you set a time to switch the pellet heater on and off. During winter you could easily set your pellet heater to run on a timer and switch on an hour before you come home from work, so even if your heater doesn't have WiFi there are other ways to control it while not home. If you don't care about WiFi or other fancy features, then you could save yourself a few hundred dollars by picking a base model that doesn't have any add-ons like WiFi. Generally speaking, most Chinese made pellet heaters come with WiFi as standard whereas on European models it costs extra.
Summary of How to Pick the Right Pellet Heater
So what's the best pellet heater for you and your home? It depends on many factors. How much you want to spend on a pellet heater, the features you are looking for in a heater, the brand (such as Piazzetta and Palazzetti vs Chinese pellet heaters) along with the size of your house and heat output needed will all play a role. It's a big decision so take your time and definitely don't rush to any decisions on what brand or model to buy without giving it some thought. Finally, if you live in Tasmania check out the top 5 pellet heaters in Tasmania and I hope you found the tips on what to consider above useful.
Resources
Pellet stove buying tips