Looking for hardwood pellets for your pellet heater? Then look no further than Mitre 10 hardwood pellets in 15kg easy to handle bags. While there are a range of hardwood and softwood pellets on the market for heating and bbqs (this is a pellet heater website, so I'll just focus on pellet heaters), if you live in Tasmania I think Mitre 10 is, as of June 2023, the absolute best choice when it comes to quality and value for money. Read on below why I think Mitre 10 hardwood pellets are a better choice than pellets sold by Bunnings, BBQs Galore and EcoPellets for heating.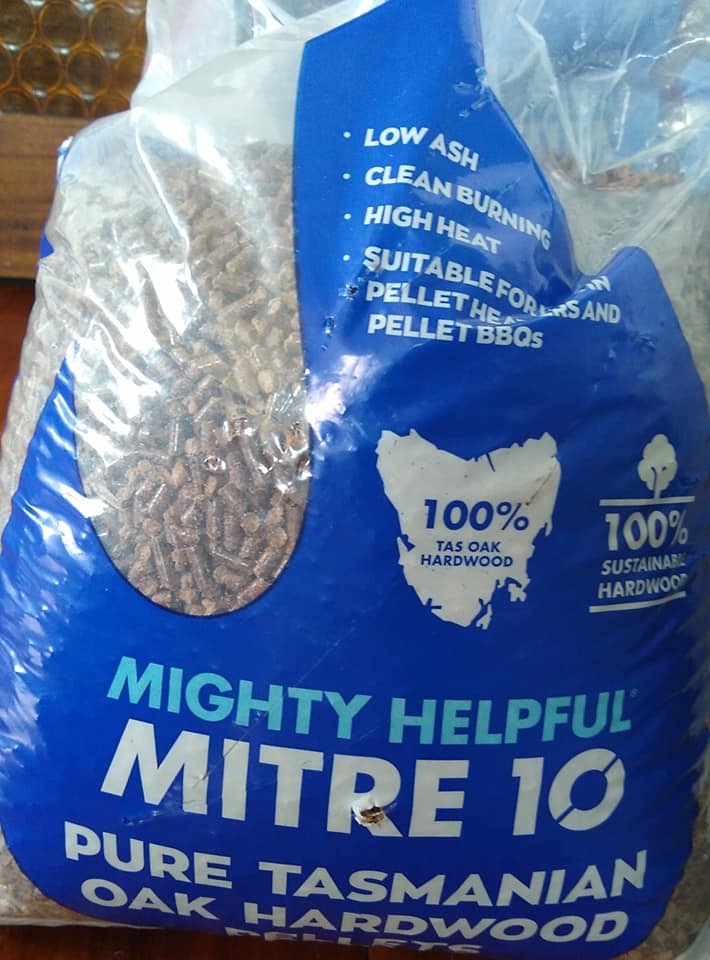 Mitre 10 Pellet Availability
First, the good and bad news. Mitre 10 hardwood pellets are made in Tasmania. If you live in Tasmania, like myself, then they are available at pretty much every Mitre 10 store around the island. This great for anyone buying pellets in Tasmania. Even if you live in a very remote place, then there is a good chance there is a Mitre 10 store nearby, at least much closer than Bunnings. The bad news is I can't find any other Mitre 10 stores in other states around Australia that stock the hardwood pellets. You can check availability of the Mitre 10 hardwood pellets using this link HERE, however, I can't find any stores outside of Australia that carry these pellets.
Based on this, my Mitre 10 hardwood pellet review is basically only relevant if you live in Tasmania. Even if you could order the pellets in to a store if you live outside of Tasmania, they wouldn't be available at the price we pay here in Tasmania and that makes them not as good value for money. We currently have 24 Mitre 10 stores in Tassie and that covers most of the island. Compare that to only 7 Bunnings stores in Tassie. This is one of the reasons I love Mitre 10 hardwood pellets. You can buy them just about anywhere in Tasmania and pellet availability is obviously a big factor to consider before buying a pellet heater.
Mitre 10 Pellet Price
Mitre10 hardwood pellets are currently being sold for $13.45 for less than 10 bags or $11.50 for 10+ bags. Prices have fluctuated slightly and I believe recently they did increase to around $14.50 but it appears Mitre 10 lowered the price back to $13.45 for under 10 bags. First, the single bag price of $13.45 isn't great because you can buy Bunnings hardwood pellets for the same price and EcoPellets are cheaper at around $9 to $10 a bag depending. However, Mitre 10, unlike Bunnings, offer a discount if buying 10+ bags. $11.50 a bag still isn't as cheap as EcoPellets but Bunnings doesn't offer a discount.
I burn around 100 bags of pellets a year. EcoPellets come June 1 2023 will be around $9.50 to $10.50 a bag. That means EcoPellets could save me $100 to $200 a year depending on which EcoPellet I burnt. However, and here's the catch. I can't buy EcoPellets locally but I can buy Mitre 10 pellets nearby. It would cost me at least $30 in petrol to drive and buy EcoPellets and I can fit about 30 bags in my car. So, it's about $1 in fuel to get EcoPellets. That makes their hardwood pellets about $10.50 and premium EcoPellets will be $11.50 a bag. Hopefully you can see now why I think Mitre 10 pellets are priced very reasonably when you consider they are available in most places around Tasmania and can be bought at a discount if buying 10+ bags.
Mitre 10 Pellet Quality
Mitre 10 pellets are 100% hardwood pellets. If you've read my hardwood vs software pellet article then you'll know that it really doesn't matter what type of pellet you burn because pellet quality is more important, at least in my opinion, than the type of wood used to make the pellets. Mitre 10 pellets burn clean, very clean. You will get very little ash in he burn chamber and no or clinker. When compared to EcoPellets, there is a very noticable difference in how well the burn. However, Bunnings pellets, also made from hardwood, burn just as clean if not cleaner than Mitre 10 pellets. If a clean burn is important to you, you will love Mitre 10 pellets
Please note that while Mitre 10 and Bunnings pellets burn clean and leave very little ash in the burn chamber, they still produce ash that will be found inside the pellet heater exhaust and flue. This isn't bad and is totally normal. This type of ash is called "fly ash" and is very light, which is why it doesn't build up in the burn chamber. Mitre 10 pellets leave very little ash in the burn chamber, which makes cleaning the burn pot and chamber quick and easy. Regardless, you should still be emptying the burn pot in your pellet heater daily or at least every 2 or 3 days. This is obviously impacted by how many hours a day you run your pellet heater but it is still good practice to check the burn pot before powering up your pellet heater.
Should You Buy Mitre 10 Hardwood Pellets?
OK, so what's the final verdict? If you live in Tasmania Mitre 10 pellets are available just about everywhere in the state or are at least more easily available than Bunnings pellets and EcoPellets. If you are outside of Tasmania and looking to buy pellets in Australia, then availability is a big problem. Many people want to buy a pellet heater in Australia but don't because they either can't get pellets locally or if they can prices are unreasonable, at least if used for heating. This is why you'll find more pellet bbqs or smokers on the mainland than pellet heaters. You aren't running a pellet bbq 10 hours a day for 3 months of the year like you may a pellet heater.
I also love that Mitre 10 pellets are priced reasonably. At $11.50 a bag they are only priced a dollar or two more than EcoPellets. If you live in Lonnie or Hobart then obviously EcoPellets are cheaper. However, if you live outside of Lonnie and Hobart (Pellet Fires Tasmania and Bass Pellet sell in these locations) then Mitre 10 pellets then Mitre 10 hardwood pellets are the same price or almost the same price as EcoPellets, once you factor in fuel, and may even be cheaper than EcoPellets depending on how far you live in Lonnie or Hobart. Also, Bunnings do not offer a discount on their pellets, something which Mitre 10 does.
If a clean burn is important to you and you want to minimise the amount of ash and time you spend cleaning your burn pot and burn chamber, then Mitre 10 pellets are great. You'll still need to do your yearly pellet heater servicing, either yourself and get someone to do it for you, but Mitre 10 pellets produce very little ash. The glass door on your pellet heater will stay cleaner much longer and might be important for those who enjoy seeing flame while their pellet heater is going. Bunnings pellets burn just as well if not better but they cost more and are not in just about every corner of the state.
I obviously can't tell you what type of pellets to buy and use for your pellet heater but if you want a clean burn, live outside of Lonnie and Hobart then definitely check out Mitre 10 pellets. If you are yet to buy a pellet heater in Tasmania or only just bought one, then definitely try a bag or two in your heater. In my winter stash of pellets I have EcoPellets, Mitre 10 pellets and Bunnings pellets. Having said that, unless pricing changes on Bunnings or EcoPellets, I will be stocking up on Mitre 10 pellets going forward. While I may be able to save a little bit of money buying budget EcoPellets, they don't burn anywhere near as clean as Mitre 10 hardwood pellets and I'd have to spend a few hours driving to Lonnie and back to stock up for winter.
Resources
Mitre 10 hardwood pellets 15kg HERE