If you are buying your first pellet heater from Pellet Fires Tasmania, tell them the referral code #PelletHead and you'll get a $100 credit if you are a new customer and buying a pellet heater. You can use this to buy some pellets or put it towards your yearly service.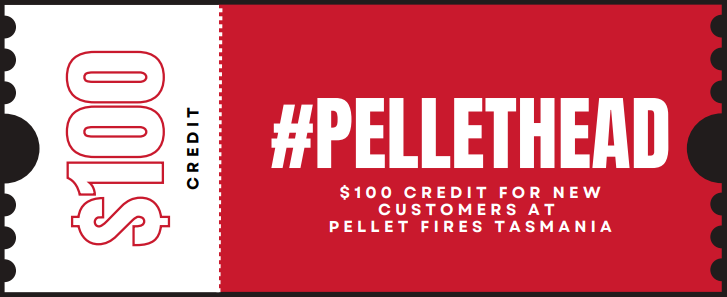 Pellet Fires Tasmania has a range of freestanding pellet heaters and insert pellet heaters. If you are still on the fence and not sure what to buy, my personal recommendations would be the Grace 13kw or the Maxi 12kw. I've written a Grace pellet heater review and also a Maxi pellet heater review if you want to go read them in more detail. If not, here is a short summary on why I think these are the two best pellet heaters to buy.
Grace Pellet Heater
The Grace looks like a traditional wood heater. This is great if you are switching from a wood heater and prefer the look and style of wood heaters. Second, it comes in freestanding and insert models. So, if you have a fireplace, you can get a Grace insert to go into the fireplace. Finally, the Grace comes in 8kw and 13kw models. I prefer as much heat as possible but the reality is 8kw is enough for most people. It's nice to have different heat output to pick from as it will save you money.
Maxi Pellet Heater
I own a Maxi, so naturally I am biased 🙂 However, the Maxi is a great choice as 12kw, while slightly less than the 13kw Grace, is heaps of heat and I LOVE heat. Next, it has a European design, meaning it is tall and slim. The benefit to this is it takes up less space and cant fit snug and sound into corners. However, the Maxi is higher than the Grace, so it does mean you have to lift bags of pellets higher off the ground.
Pellet Fires Tasmania sell a heap of different pellet heater models. While I love the Grace and Maxi if you are still unsure pop into one of their shops in Launceston or Hobart and the staff will be more than happy to walk you through the models they have and make some suggestions on what may be best for your heating needs. I hope you enjoy your pellet heater as much as I do and until next time, happy heating! 🙂
Using the code #PelletHead also gives me a credit of $100 as it's my referral code. If you aren't buying from Pellet Fires Tasmania please consider sharing this website with others or joining our Facebook groups.